Meadows School Term Dates and trips/visit information
School Term dates
Please see below our term dates for 2022/2023.   Please print off and display for future reference.   See below a pdf copy for printing, downloading or sharing.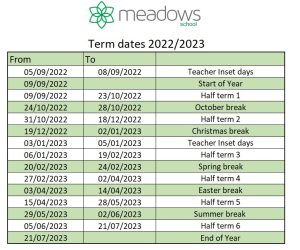 Other important dates to remember
17th February 2023 – Celebration Day
17th March 2023 – ARC Show and tell Day
19th May 2023 – Parents Evening
15th May 2023 – 27th June 2023 – External GCSE Exams
14th July 2023 – -Celebration evening and PROM
School Trips/Visits
Meadows school are proud of the school's regular trips/visit program that we offer our pupils.  These include a weekly visit to Mahdlo Centre for our Healthy Lifestyles Day where pupils take part in individual and team physical activities, mental health activities and take part in our food technology classes, learning how to eat healthily.  Pupils also grow their own vegetables, fruit and herbs at the Agricultural and Rural Centre CIC.
Please see attached our pdf copy of our healthy lifestyles programme    All Registered Managers and parents should ensure they have completed the parental consent form – for regular activities. and have thoroughly read our RA – All Visits inc travel 2022